RCBO or MCB + Surge Protection - Fitted Consumer Unit IP65 - 3 Phase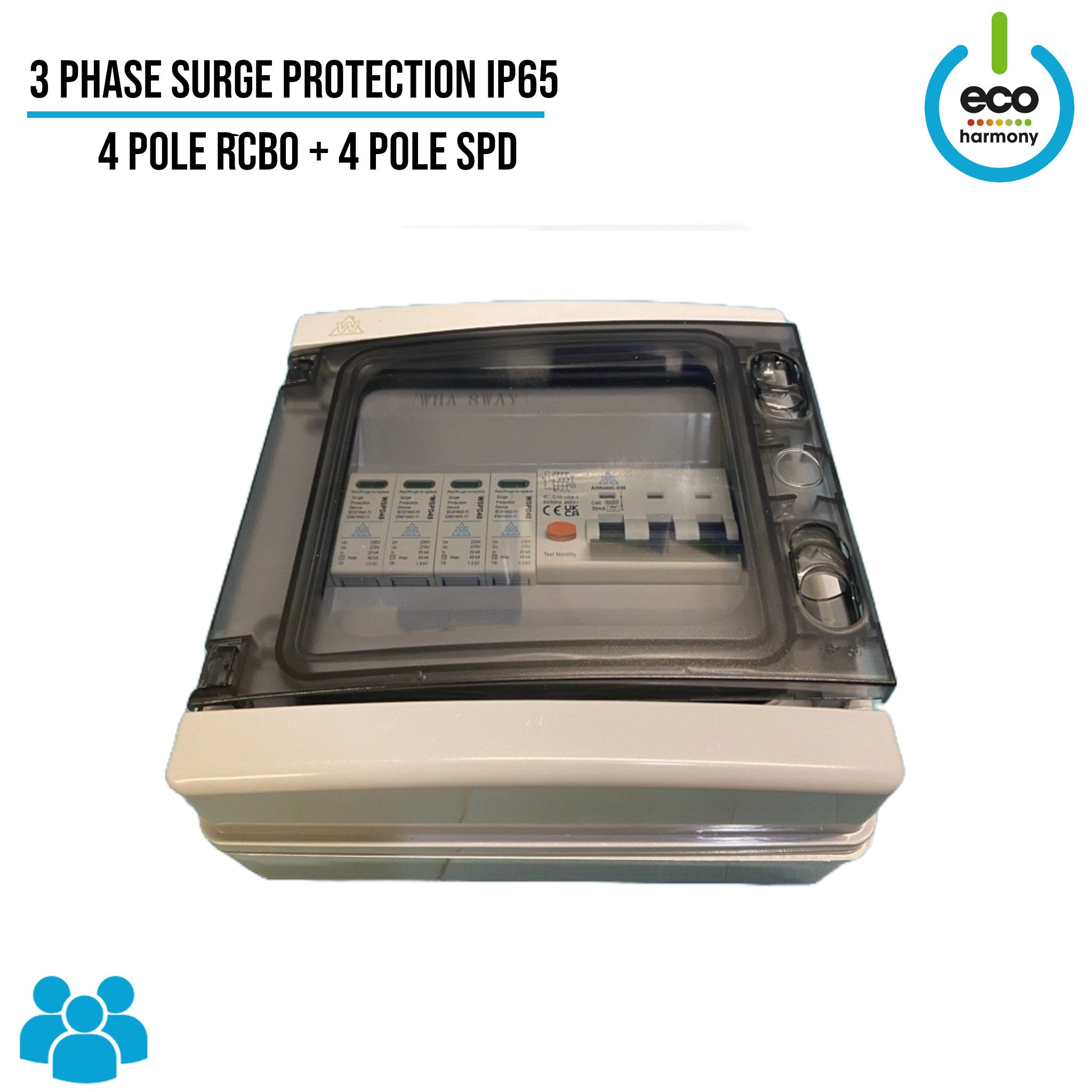 Consumer Unit Fitted either  4 Pole 40A RCBO or 4 Pole MCB+ 4 Pole Surge Protection, IP65 Plastic Enclosure
The enclosures come pre populated with a 4 Pole 40A RCBO or 4 Pole 40A MCB and 4 Pole Surge Protection device (SPD). This makes them suitable for EV installations. The IP30 metal enclosure is perfect for installations indoors. 
This is useful for 3 phase installations providing a simple to fit enclosure with key components inside. The RCBO can be powered from either the top or bottom and the SPD is connected via bus bars simplifying wiring requirements while adding key safety features.
Key Features
40A RCBO or 40A MCB
RCBO Is Type A RCD, 30mA
Surge protection Device

3 Phase
Ideal for EV charger installations
Options for solar installations available 
Dimensions
Plastic IP65 -

210mm x 200mm x100mm



25 and 32mm Circular cable entry knock-outs on top and bottom
Electrical Properties
Electric ratings: 40A
Protection degree: IP65
Standard: IEC 60364/BS7671
Type 2 SPD 
Replaceable Modules
Protect against transient Overvoltage's and meet the requirements of 18th edition of BS7671 amendment 2. 
Manufactures Partcodes
WPRC40CSP

WPCUSP440C
Always check with qualified installer for suitability and adherence of local wiring regulations.